A New York Times Notable Book • A Los Angeles Times and Wall Street Journal Best Book of the Year • Finalist for the QPB New Voices Award, the Borders Original Voices Award, and the Great Lakes Book Award
Wildly entertaining
…not just philosophically but emotionally rewarding.
- Richard Russo, The New York Times Book Review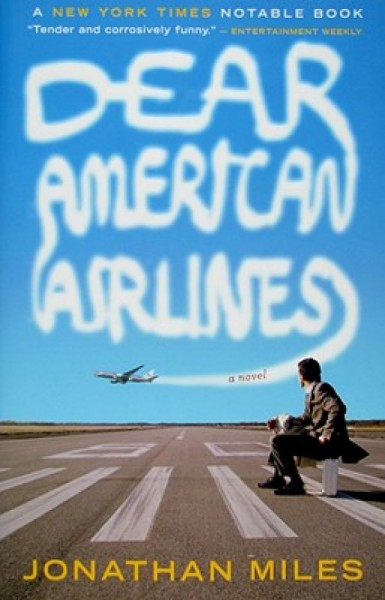 Rich and
wild and dazzling
and insightful and fallon- the-floor funny and sad and tender, a first-person confession, erstwhile suicide note and epic letter of complaint.
- Fredric Koeppel, The Commercial Appeal
Raucously ambitious…[It] sounds insane. It
is
insane. It's also terrific,
a wild ride
…This is Miles's first novel. I don't know what he'll do next, but I'll be there.
- Arizona Republic
I loved this novel which is
strong medicine
indeed.
- Jim Harrison, author of Legends of the Fall
Dear American Airlines is the scathingly funny, deeply moving story of a stranded passenger whose enraged letter of complaint transforms into a lament for a life gone awry.
Bennie Ford, a fifty-three-year-old failed poet turned translator, is traveling to his estranged daughter's wedding when his flight is canceled. Stuck with thousands of fuming passengers in the purgatory of O'Hare Airport, he watches the clock tick and realizes that he will miss the ceremony. Frustrated, irate, and helpless, Bennie does the only thing he can: he starts to write a letter. But what begins as a hilariously excoriating demand for a refund soon becomes a cri de coeur of a life misspent, talent wasted, opportunities botched, and happiness lost. A man both sinned against and sinning,
Bennie pens his letter in a voice that is a marvel of lacerating wit directed at himself and at others, heart-on-sleeve emotion, and wide-ranging erudition, underlined by a consistent groundnote of regret for the actions of a lifetime—with all of it propelled by the fading hope that if he can just make it to the wedding, he might have a chance to do something right.
A margarita blend of outrage, wicked humor, vulnerability, intelligence, and regret, Dear American Airlines gives new meaning to the term "airport novel" and announces the emergence of a major new talent in American fiction.
Dear American Airlines
is a flinty, funny, irreverent, and heartbreaking first novel.
The writing reminded me of a brilliant, early-days Martin Amis novel
—except with redemption and hope.
- Elizabeth Gilbert, author of Eat, Pray, Love
A
brilliant
conception…Mr. Miles is a superb writer.
- Steve Weinberg, Dallas Morning News